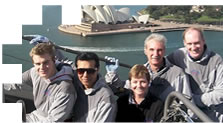 Part of the Infinet Service Solutions Team taking another challenge.

Is your organisation expanding in Australia, New Zealand and the Asia Pacific?
Infinet Service Solutions has been operating for over twelve years from its component level repair workshop in the Sydney suburb of Artarmon, Australia.
In addition, Infinet Service Solutions client dedicated on-site Field and System Support Engineering specialists now cover most mainland Capital Cities.
Through our logistics partners, Infinet Service Solutions can also quickly establish a presence and/or service through out the Asia Pacific arena, including China, if demand arises.
If you need depot repair and after sales support services you need Infinet Service Solutions.
Our core competency is providing depot repair (warranty and non-warranty) and after sales support services. We are specialised and independent. Our focus is on providing an efficient service, guaranteed quality and rapid turn-around at a competitive price.
Through our strategic and reverse logistics partnerships, we can provide a complete 24 hour, 7 day, 52 weeks a year support service.
Infinet Service Solutions' current customer base includes:
Sun Microsystems

HP

Apple

IBM

Javlin Systems

Konica Minolta

Panasonic

Plantronics

Reuters Australia

Sony Australia

Tandberg Television
Together with Infinet Service Solutions' associated businesses the range of services provided also includes mobile communications, telecommunications, flat panel monitor (LCD/TFT's) and other flat panel products.
For more information about the ability of Infinet Service Solutions being able to provide your business with the right level of expertise and capabilities see In House Expertise and the Network of OEMs and Local Repairers used by Infinet Service Solutions.
Other Sites of Interest:
Association for Services Management International
Association for Services Management International (NSW Chapter)
Display Systems Technology
Associated Businesses
Through a system of strategic partnerships, Infinet Service Solutions and its associated businesses can offer you an extensive range of hardware, software and administrative services covering far more than computers and peripherals.
Thomas Electronics of Australia Pty Ltd (www.thomas.com.au)
Specialist in full range of monitor repairs.
Display Systems Technologies Pty Ltd (DST) (www.dstlcd.com.au) which is specialising in Flat Panel Monitor and other Flat panel products such as Aircraft Inflight entertainment devices. Customers include companies such as:
NEC

IBM

Qantas

Delta

United Airlines

ITS

Apple Computers